About Us
Goss & Crested China Ltd
Goss & Crested China Ltd was founded in 1973 by Nicholas Pine and is the leading dealer in Goss / Crested China. Traditionally the company sold via printed sales catalogues which were posted to collectors.
Over a period of two decades Nicholas Pine set about re-popularising crested china, authoring and publishing numerous books, appearing on television and radio, as well as contributing to antique journals and newspapers. Nicholas is currently conducting research into his early days in the Goss / crested china industry and will soon begin writing his memoirs about his part in the re-popularisation of the crested china craze, along with many amusing tales and anecdotes about some of the characters involved. If you or perhaps your parents were one of his customers during the 1970's / 1980's and have any stories or information that you feel might be useful, then please email Nicholas directly at n@njpine.com and you never know, your story might be included in his new book.
Goss & Crested China Ltd is now managed by Nicholas eldest son, Andrew, who returned to the UK to take over the business after working in Australia and south-east Asia for nine years. Andrew worked for Goss & Crested China Ltd from 2000 - 2007, and is proud to be the second generation running the family business. Andrew is working on a number of new projects for the business which will be unveiled over the coming months.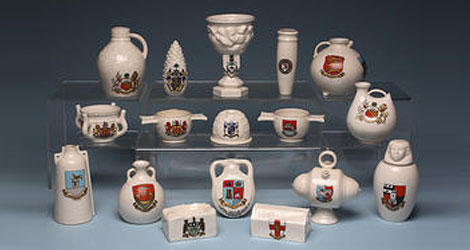 Why not visit the company's showroom located near Rowlands Castle, on the Hampshire / West Sussex border, to see the complete range of our stock. Open 7 days a week, 9am to 8pm.